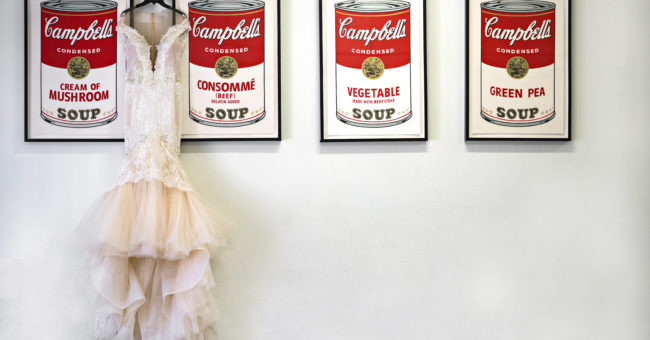 I wanted to capture an image at this venue that had never been taken before. This wedding location is a very popular wedding ceremony and reception location, in Downtown Minneapolis. Though unique, during my research I had come to realize, this was one of the top wedding spaces in Minneapolis. Needless to say, there have been many weddings photographed here in the past. I never like to shoot the same shot twice, let alone copy images that other wedding photographers have done prior. I knew it was going to be a fun challenge, but I was determined to walk away from this wedding with a piece of art an image that no photographer in Minnesota had ever captured before.
On the wedding day December 31st, 2017, I walked into Aria for the very first time in my life. It was a beautiful open airy space with lots of character; a photographer's playground. The building in which Aria lives was built in 1889 by Edward Stebbins and was originally known as the Realty Warehouse Company building located in the Minneapolis Warehouse Historic District, which is listed on the National Register of Historic Places.
This was my first dress shot, which was definitely acceptable, but I never like to just get by, if I don't have to. One of the things I tell my couples is, I shoot 90% of their weddings for me. Meaning, I too need to be excited at the end of the day about the images I capture. Now that I had my safe shot, I wanted something better. I walked around Aria looking for something more, to hit that 90% mark.
That's when I came across these four soup can images, hanging in a room just off the kitchen, which I think was a staging area for the kitchen as they prepare trays to be taken into the dining area during the meal. I knew the moment I saw this art, this is what I wanted for the dress shot. I was going to combine art from one of my favorite artists with my own vision to create something new and inspiring, not only for me but with the hope that my couple would love it too.
I spent over ten minutes with the help of the wedding planner no less, setting up this shot. Beth Evans from Kismet helped me keep the dress off the floor plus held onto the chair I needed, in order to reach up high enough to hang the dress on the thin piece of wood I placed between the two frames, because the hanger kept slipping off the edge of the frames in my original plan. All the While the bride was waiting for me to bring the dress back so she could get in it so we could do first look. Lots of pressure but the reward was great..
This is one dress shot I am excited about.